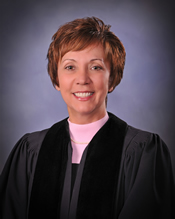 Judge Nanette D. VonAllman
Welcome to the New Philadelphia Municipal Court website. The New Philadelphia Municipal Court, located in the Memorial Municipal Building, was created in 1975 and began operating on January 1, 1976. The New Philadelphia Municipal Court has territorial jurisdiction within the municipal corporations of New Philadelphia and Dover, and within Wayne, Franklin, Lawrence, Sandy, Sugarcreek, Dover, Fairfield, Warren, Auburn, York, Goshen, Bucks, and Jefferson Townships in Tuscarawas County. Therefore, the following villages are also within the jurisdiction of the Court: Baltic, Bolivar, Midvale, Mineral City, Roswell, Stonecreek, Strasburg, Sugarcreek, and Zoar.
We have developed this website for your convenience and information. The Internet provides our court with an additional means to communicate with you and provide information about the court. Please take a few minutes to tour our website, and we hope that you find it informative and useful.
Did you know...
You can pay your fines and even waive certain traffic or criminal citations through our online payment tool? Check out our
Online Payments
page for more information.
Collections Program
In an attempt to recover outstanding fees and costs, the court is now utilizing Capital Recovery Systems, Inc. If you have been contacted and would like to make a payment, you may pay online through the court's website; by mail, or in person at Municipal Court. Payments may also be made by accessing the "Make a Payment" section of the
Capital Recovery Systems, Inc. web site
.
NOTICE TO ALL WEBSITE USERS
Legal Disclaimer: The user of this system is hereby notified that any reliance on the data displayed on the screen is at your own risk and liability. Information on the system may be altered, amended, or modified without notice. The NPMC is not responsible for any virus that may be wrongfully and illegally placed into this website. Use of this website is at your own risk and the NPMC will not be held responsible for any damages that may occur to your computer system from its website use.